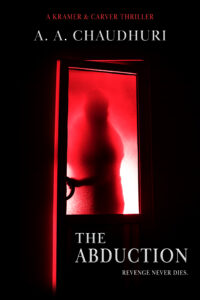 Very excited to reveal the cover for my second thriller, THE ABDUCTION, the sequel to THE SCRIBE.
Madeline Kramer has finally got her life back on track at top City law firm Sullivan, Blake, Monroe. But when two armed, masked men burst into a conference room one lunchtime, kidnapping a trainee and partner, Maddy's life is plunged into disarray once more... Read more >
December 2019
Kramer & Carver are back in my new thriller,  THE ABDUCTION, published on Kindle and in print 20th December, but now available to pre-order on Kindle for only £1.99!
Thank you to my publishers, Endeavour Media, for doing such a fantastic job!
Interview with Shots Crime and Thriller Magazine
Thrilled to have done an interview for Shots Crime and Thriller Magazine alongside Awais Khan. Big thanks to crime fiction critic and commentator, Ayo Onatade, for featuring Awais Khan and me in her popular blog this week.. Read more >
Capital Crime Festival 2019
London's inaugural crime and thriller festival. Held at the resplendent De Vere Grand Connaught Rooms in Covent Garden, it was the perfect setting for the prestigious three-day event, showcasing a diverse array of international crime writers and CWA members who offered their unique insight on a range of fascinating crime related topics