AUDIO DEAL!
Absolutely thrilled that THE SCRIBE and THE ABDUCTION are being brought to life through the wonderful medium of audio next year! Many thanks to my agent, Annette Crossland, for securing the deal with Isis Audio. I am so excited to be working with them and hearing who will be the voice of Kramer and Carver! >Read more
What a pleasure it was to be interviewed by brilliant book blogger, Danielle Price, for her website. Huge thanks to her for asking such fun and interesting questions and for her lovely comments too!
A great start to September!
Great news! The editors at Amazon have selected my debut novel, The Scribe, for a monthly deal in the UK! This means it'll be 99p for all of September, and feature on their monthly deals page! Not only that, they've also selected it for a monthly deal in Australia, where it'll be priced at $1.49. What a way to kick off the month!
As it's been a little over a year since my debut thriller, The Scribe, was published on 1 July 2019, I thought this was an opportune time to reflect on my first twelve months as a published crime author, not just because I thought it might be of interest to authors out there seeking publication, but also because it's a chance for me to look back on all the great opportunities and learning experiences I've had, as well ...
Delighted to have had a short story published by The CWA as part of their excellent initiative to celebrate National Crime Reading month.
My lockdown experience
I was delighted to share my experience of life at home for a writer during lockdown for The Crime Writers' Association's Crime Writers in Residence series. You can watch the full video here >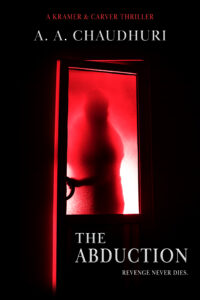 THE ABDUCTION, the sequel to THE SCRIBE.
Madeline Kramer has finally got her life back on track at top City law firm Sullivan, Blake, Monroe. But when two armed, masked men burst into a conference room one lunchtime, kidnapping a trainee and partner, Maddy's life is plunged into disarray once more... Read more >
Thanks to all the fantastic bloggers who featured on THE ABDUCTION blog tour. Read their reviews here.
Thank you to my publishers, Endeavour Media, for doing such a fantastic job!