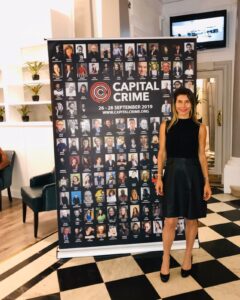 Last month I attended Capital Crime, London's inaugural crime and thriller festival. Held at the resplendent De Vere Grand Connaught Rooms in Covent Garden, it was the perfect setting for the prestigious three-day event, showcasing a diverse array of international crime writers and CWA members who offered their unique insight on a range of fascinating crime related topics, as well as holding various social and private screening events. Attended by authors like myself, as well as readers and diehard fans of the crime/thriller genre, I was unfortunately only able to attend Friday's programme of events. Nevertheless, it was a fantastic day, packed with the most riveting back-to-back seminars held simultaneously in two conference rooms, making it hard to choose which one to pick! I was lucky enough to watch panels featuring some amazing authors and larger-than-life personalities - Ian Rankin, Robert Goddard, Lisa Jewell, Sarah Hilary and former MI5 Director General Stella Rimington - to name but a few, discussing all manner of topics such as how to build tension in crime/thriller writing, crime novels set abroad, the depiction of women in the crime genre and how crime writing can be an important vehicle for exploring and examining different facets of society including its changing complexion, and finally, how crime writing must adapt as society adapts, with particular emphasis on the challenges posed for crime writers by ever evolving technology. Gone are the days when spy thrillers centred on "human" interaction, infiltration, paranoia and deception. Now we crime writers must be au fait with the machinations of The Dark Web, encrypted apps, mobile phones and number plate tracking, to name but a few, giving rise to a whole new approach in the way crime writers must tackle, unravel and resolve the crimes that form the kernel of their intricately plotted novels. The highlight of the day for me, however, was leading crime genre commentator and reviewer Ali Karim's interview with Martina Cole. It was telling that this was the only event with no other panel running parallel to it. Everyone wanted to listen to what the queen of crime drama had to say, and with just cause because, not only did you leave the room with a real insight into Martina Cole the person as well as the author, I, for one, felt imbued with a new sense of optimism and vigour about my own writing having heard her speak. To listen to someone who came from such humble beginnings but who worked unbelievably hard to become the writing powerhouse and legend that she is today, was truly inspirational. As she said herself, "If I can do it, anyone of you can". Of course, it's not that simple; you need talent, of which Ms Cole has in spades, but she made it abundantly clear that her success wasn't handed to her on a plate, and that, in spite of her success, she has battled varying forms of prejudice and criticism throughout her career, all of which she has faced with her head held high and an unflinching belief in herself and her books. To think that she was once termed by some critics as a one-hit-wonder, only goes to show how harsh the industry can be, but should also teach us lesser mortals who, more than most, know the pain of rejection only too well, never to give up and to believe in ourselves and our ability to write great stories that will, above all, entertain readers and if we are lucky, stand the test of time. Cole does not profess to be a "literary" great, but the fact that she has more than twenty novels to her name, of which over a dozen have been number one bestsellers and several adapted for the screen, while getting people who never usually pick up a book to read, is surely testament to her wide appeal and her ability to write page-turning novels that grip the reader from first to last with their uncompromisingly direct and honest approach. For me, at least, this is what really counts, what makes an author truly successful and an expert in their craft. And despite her modesty, I think this does, in fact, make her a "literary great" in her own right.
The panels I attended were all fascinating in their own ways, and gave me much food for thought, even sparking a few ideas I've been sure to note down since. A four-way discussion on Agatha Christie touched on her impeccable plotting, elegant seamless writing and remarkable ability to fool and shock the reader with her ingenuous twists and turns and character misdirection. Her uniqueness put her at the forefront of her craft and gave her novels a timeless quality making readers want to return to them again and again. Small wonder she still sells more books internationally than any other writer, her phenomenal success only usurped by Shakespeare and God! In this way, I found myself drawing parallels with Christie and Cole, both of whom have been criticised over the years for not being the most literary, or the greatest stylists, but are, ironically, two of the most successful female authors that ever lived. They have clearly done something right for their books to have remained bestsellers for as long as they have. It's a shame that this kind of "literary snobbery" is still at play, as with so many aspects of society I suppose, but happily, such prejudice doesn't deter the majority of us from lavishing the high praise both women deserve.
Above all, the festival really brought home the wonderfully diverse nature and breadth of the crime genre, in terms of themes, politics and character depiction, to name but a few. Small wonder it's one of the most loved, well-read genres!